What is workplace courage?
Taking action for worthy causes
EVERYDAY OPPORTUNITIES TO ACT
a choice, not a personality
Taking action for worthy causes

What makes a workplace action "courageous"? In a nutshell, we call an act courageous when someone does something worthy – like stand for a principle, a cause, or a group of others – despite the potential personal risks involved.

If you want your act to be perceived as involving a worthy cause, your behavior generally has to be seen as driven by others' best interest, not your own satisfaction or gain. Pushing back on a schedule change that negatively affects your coworkers' income is one thing; pushing back because you want more time for your social life is another. A behavior doesn't have to be "morally" worthy to be courageous. For example, speaking up to a defensive boss about a product line not well-aligned with market trends or about unrealistic sales goals don't involve a clear violation of ethical standards but they are still worthy of admiration.

What kinds of risks do people accept in acting courageously at work? For some workers (fire fighters, oil rig workers) physical risk is still prominent. Fortunately, though, most of us don't put our physical safety, or life, on the line at work anymore. Almost all of us, however, do face risks to our careers (and economic well-being), our social connections, or our psychological health when we act boldly. Courageous acts could get you blackballed, demoted, or otherwise materially harmed. They could harm relationships with peers or subordinates and leave you feeling isolated or ostracized. Or they could leave you feeling incompetent or impotent, a sense that you've embarrassed yourself or failed.
EVERYDAY OPPORTUNITIES TO ACT

For most people, workplace courage is about pretty routine opportunities in their workplace, not the headline stories of whistleblowers. It's about all sorts of opportunities to speak up to direct bosses or skip-level leaders about problems or ways to do better. It's about opportunities for difficult conversations and actions involving peers, subordinates, and other stakeholders like customers or external partners. It's about other kinds of bold actions, like taking stretch assignments or personal responsibility for major initiatives, starting a new venture, or making principled stands.

While many acts people describe as requiring workplace courage are fairly routine, they're nonetheless done with surprising and disappointing infrequency due to their perceived riskiness. For example, about 75% of all respondents to the Workplace Courage Acts Index say it's at least moderately courageous to push back on a boss about strategic or operating policies, and that it happens only about 40% of the time in their environment. These percentages hardly change for behaviors directed at one's peers or even one's subordinates, even though most of the actions are clearly things it's hard to deny we should do if we consider ourselves good people, good employees, or good leaders.

Fortunately, there are examples of people doing these everyday behaviors, sometimes leading to incredible growth for the actor, others, and the organization where they happen. You don't have to blow the whistle or put your life on the line to impress or inspire others. You just have to be willing to seize everyday opportunities to do the right thing.
a choice, not a personality

"It takes a special person" is a common misperception about workplace courage. In fact, courageous actions come from people of every gender, ethnicity, nationality, and political and religious orientation. On the whole, courage is no more likely from people toward the top or with more prestigious job titles or big salaries. Or from people with specific personality traits. No one is born knowing how to competently speak truth to power or undertake other principled or innovative moves. If anything, we're all born with the ability to recognize the risks of standing out!

Even if the heroic personality notion wasn't a myth, why would it matter? We don't expect other virtuous acts, like being fair or acting with moderation, to be the responsibility of just a few. We don't accept that it's "beyond my capacity," "someone else's job," or "just not worth it" when it comes to being honest, kind, or any other virtue, so why would let ourselves off the hook like this when it comes to courage?

Unless we normalize acting courageously, seeing it as a possibility and responsibility for everyone, too many of us will keep waiting for others to do it. We'll hide behind assertions that "we can't all be Mandela or Gandhi" or that we're going to do it later when we have more power, all the while diminishing ourselves by our inaction.

We have to learn how to behave virtuously and to master the other kinds of skills needed at work. We can also choose to stop avoiding or botching opportunities for courageous action. We can choose to practice the courage skills that don't come naturally for anyone.
Competent Courage Resources
Whether you're looking to make a mark, stay true to your values, act with more integrity, or simply want to grow as a professional, these Competent Courage resources can be your guide.
Starting your journey to Competent Courage
My goal isn't to help you become an organizational martyr or someone who constantly shoots from the hip. It's to help you see courageous action as something you can do consciously and competently because you've practiced a set of learnable mindsets and skills. I invite you on a journey toward competent courage.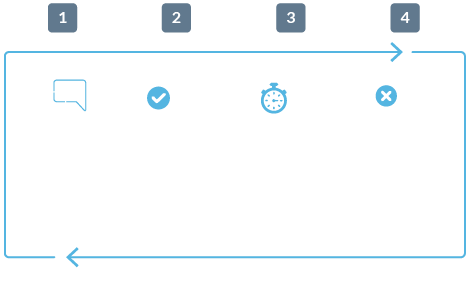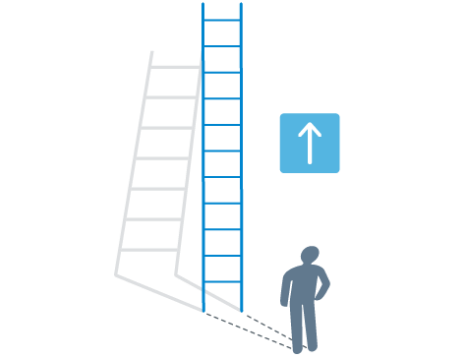 BEING COURAGEOUS – ONE STEP AT A TIME
Choosing courage means choosing concrete action, one step (or rung!) at a time. If you're ready to get started now, the courage ladder can be your accountability partner for committing to and consistently practicing the necessary steps.