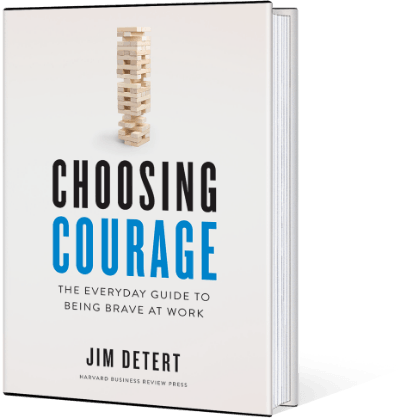 "Jim Detert has produced an insightful, practical book on overcoming fear. Whether you sit at the top, middle, or bottom of an organization, Choosing Courage will help you find the nerve to stand up for your principles and build the skills to drive change."
Choosing Courage: The Everyday Guide to Being Brave at Work
An inspirational, practical, and research-based guide for embracing risk and making a powerful impact at work.
Have you ever wanted to disagree with your boss in a meeting? Speak up about your company's lack of diversity or unequal pay practices? Make a tough decision that you know will be unpopular?
We all have opportunities to be courageous at work. But since courage requires risk—to our reputations, our social standing, and, in some cases, our jobs—we often fail to act, which leaves us feeling powerless and regretful for not doing what we know is right. There's a better way to work and live—and Choosing Courage provides the moral imperative and research-based tactics to help you make better use of your courageous instincts at work.
Doing for courage what Angela Duckworth has done for grit and Brene Brown for vulnerability, Jim Detert, the world's foremost expert on workplace courage, explains that courage isn't a character trait that only a few possess; it's a virtue developed through practice. And, with the right attitude and approach, you can learn to hone it like any other skill and incorporate it into your everyday life.
Full of stories of ordinary people who've acted courageously Choosing Courage will give you a fresh perspective on the power of voicing your authentic ideas and opinions. Whether you're looking to make a mark, stay true to your values, act with more integrity, or simply want to grow as a professional, this is the guide you need to achieve greater impact at work.
ENDORSEMENTS FOR CHOOSING COURAGE
"No one else writes as authoritatively and compassionately as Jim Detert about what it means and what it takes to speak up about what really matters. Whether you're working at your first job or running a company, this inspiring book will help you make a difference."
"Jim Detert has zeroed in on arguably the most critical conundrum in the workplace today. The everyday environment demands more personal courage than ever before while, at the same time, it makes it more difficult than ever to exhibit the courage required to navigate all the challenges of the day. Detert helps us find our way. Well done!"
"There couldn't be a more urgent time for leaders at all levels and in all industries to embrace the importance of courage to organizational success. Thankfully, Jim Detert has created the blueprint for courageous leadership."
"Jim Detert enables us to have the tough discussions essential to solving today's intractable challenges, and he shows us how to be 'competently courageous' so that our courage pays off for us and for our organizations. Choosing Courage is empowering for leaders at every level."
"At no time has there been a greater need for the lessons and guidance that Jim Detert provides in this book. Choosing Courage has captured the secret for how leaders and organizations can have a greater impact—and that includes greater social impact, associate engagement, business performance, innovation, and personal growth."
"This exceedingly readable book goes well beyond mere calls for courageous behavior in the workplace; it provides us with a rich store of exemplars, insights, tools, and tactics that can serve to literally rewire our habitual responses to what's possible. Jim Detert's concept of 'competent courage' becomes less a matter of exceptional bravery and more a matter of choice."
"As we watch with great disappointment our current-day leaders' failures, Choosing Courage provides a road map for effectively demonstrating courage at all levels of leadership. This is a great read for leaders on the rise as well as those frustrated by the seemingly intractable polarization of many of today's challenges in both business and politics."
"Leaders should take note. It just shouldn't be so hard to speak truth to power; it's a leader's responsibility to create an environment where everyone can be courageous. As Professor Detert shows, that's both good for employees and good for the organization."
Choosing courage in key moments can protect others, help solve problems and avert disasters, lead to opportunities seized, and to various forms of innovation and growth.
It can inspire commitment, bolster trust, and lead others to act more courageously. Choosing courage helps you build the legacy you want and avoid regrets you don't want.
Are you ready to learn more and get started?
What's your next step?
VISIT THE COURAGE CENTER AND BEGIN YOUR JOURNEY
Get Started Now!